Please note: These sailing directions are provided for general guidance. They should not be relied on solely for navigation. Any diagrams, co-ordinates, sketches or GPS tracks published here can only be regarded as accurate on the day they are published - the channel can, and does, change frequently. Gibraltar Point Sailing Club, its officers or members, cannot be held responsible for any incidents that may occur.
Gibraltar Point Sailing Club is situated on the East Coast at the entrance to the Wash Estuary. The entrance to the Haven is twisty and shallow, with cross-currents, and is forever changing. However it is well marked by a combination of top marks and buoys which make it relatively straightforward to follow. Members of the club put in a lot of effort maintaining the channel buoyage.
Access is really only available on Spring Range tides (6 metres plus) when a vessel with a 3ft draft may enter up to 90 minutes before or 90 minutes after high water. The channel is protected by an offshore bar, through which the channel cuts. The approaches to the lit channel entrance port-hand buoy located near the DZ mark, can be made along Boston Deeps, either through the unmarked Parlour Channel or the main Freeman Channel. The most popular option from the North is to sail from Skegness along the beach around 150 metres off the breaking waves. If you're brave and coming along at low water, you may find deeper water (5m) closer in to the beach around 10-20 metres off.
The sketch chart below was correct on 1st April 2018. The distance from the entrance of the channel to the visitor's moorings is roughly 2 nautical miles.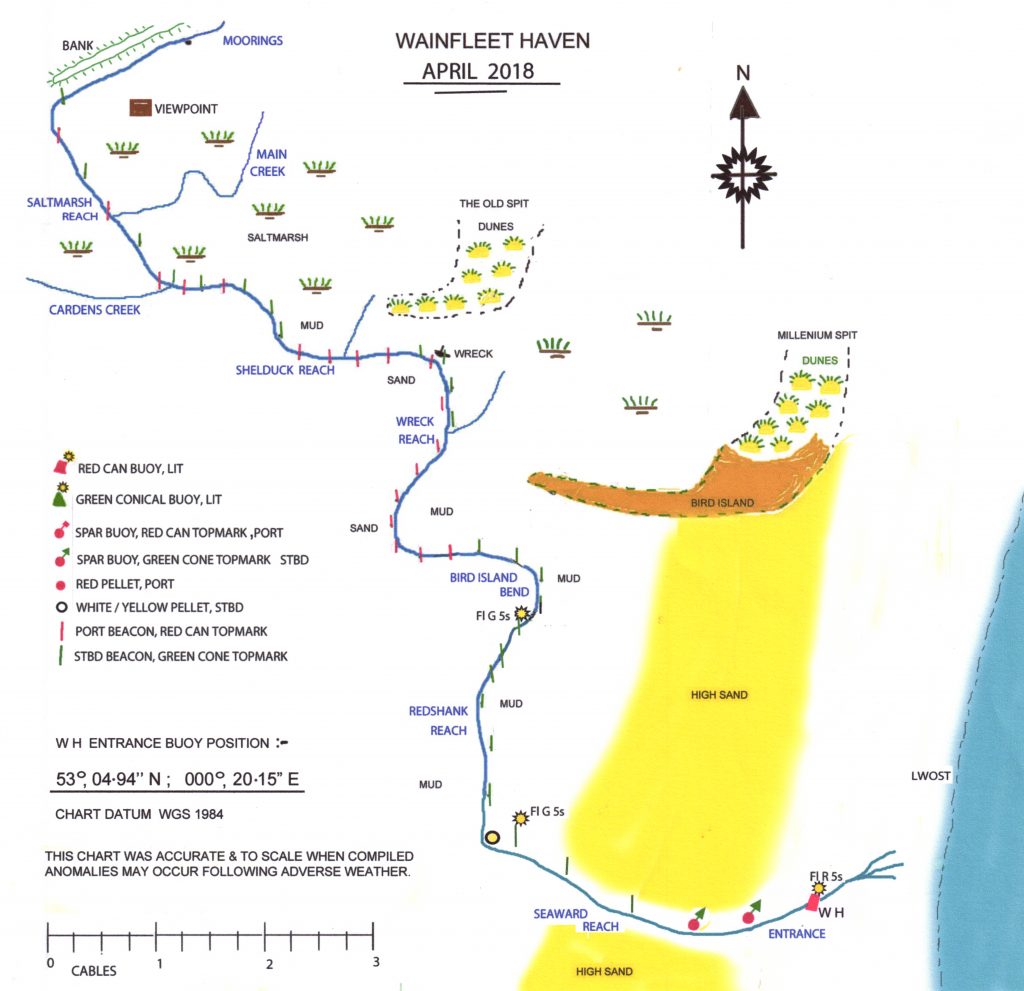 Please check with the Commodore for the current position of the leading buoy and information regarding navigating the sandbanks adjacent to the leading buoy.